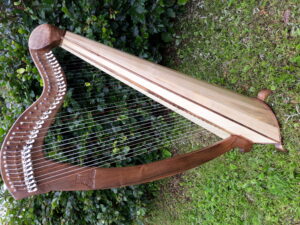 A wide range of customisation is offered to personalise the four models of Callan harps currently available.
Sharpening levers
The addition of sharpening levers allows the harps to be played in different keys. Except for the Callan 14, all models can be fitted with sharpening levers. Please state your preference when placing an order. I usually source levers from Camac Harps in France.
Coloured harps
I have recently designed a process to produce "rainbow" coloured harps using Sycamore and a selection of dyes. The white and silky lustre of the sycamore wood makes it ideal for instrument making and applying a dye to this bright tree species will highlight the grain in the wood.
This process involves fully sanding and scraping down the harp to a very fine finish.
I start by applying the darkest colour to the harp first and let dry. I then sand it down again to remove most of the colour. I subsequently reapply a new colour and repeat the same process every time a new colour is added until the overall finish is to customer's satisfaction.
This option is available on all models. Please contact me for further information.
Wood carvings
I have partnered with Richard Cuniffe, a local wood carver based in Athenry. All harp models can be customised with a personalised logo, an emblem, initials or drawings which can be affixed to the harp. Any timber can be used, but lime wood timber is generally more suited. This hard wood will carve easily and produce a fine detail.
Depending on the type of carvings required, a lead time of two weeks can be expected.
Onlays/Inlays
On certain models, I have added wood inlays or onlays on the soundboard using contrasting and coloured timbers.
Please contact me for more details if you have a particular pattern in mind.
Pictured here is a walnut mirror image onlay on a spruce soundboard.
Harp bags
Soft fabric harp bags are available for every harp model. Designed and handmade by a local lady based in Esker, Athenry, the bags are made with a very durable and lightweight synthetic fabric.
The bags are designed to protect the instruments in storage or during transport, but they are not suitable for national or international shipping. Custom made wooden crates are available for international shipping. Please contact me for further information.
21 string harp
A custom design for a 21 string harp came about at the request of a professional harpist who was travelling between Ireland and England on a regular basis.  The harp had to be small enough to fit in the overhead compartment of a Ryan Air plane while still producing a good volume and a professional sound.
I designed and built the following model with a sycamore box, a cedar soundboard and an elm pole and arm. The harp is fitted with Camac levers on Cs and Fs. It also comes with a harp bag and a fully adjustable floor stand. For a small harp, it produces a loud sound which makes it ideal for traditional sessions:
This model is only available on request. Please contact me for further information.
Custom design gallery