Callan 26 is a 3 1/2 octave 26 string lever starter harp fitted with nylon strings which makes it an ideal instrument for students and beginners. With a fully adjustable floor stand, Robinson levers fitted on the C's and F's. additional levers can be added on request
To date, I have made this model using ash, beech, cherry, walnut, birch, elm, sycamore, yew, hornbeam, maple and alder.
Callan Harps offers a full refund on this harp when up-grading to a 34 string harp
Custom 26 string:
Coloured                        Wide sound-box, cedar sound-board, carbon strings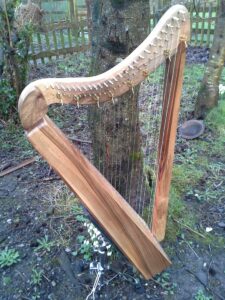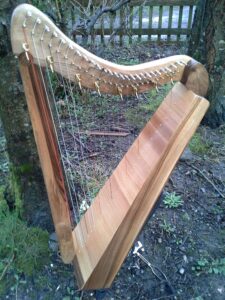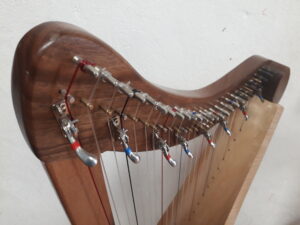 This 26 string model can be also customised with a larger sound box, a spruce or a cedar soundboard instead of birch wood.
This option allows for the use of carbon fibre instead of nylon strings which, combined with the bigger sound box will provide a bigger sound and a better tone.
Please contact me for more information.
Sound sample
Listen to "The Rights of Man" hornpipe played on a Callan 26: